Of Praying Hands methode is a curl styling technique that you can apply in the shower or during your styling routine. It results in more defined curls and less frizz! 
Who is the Praying Hands method suitable for? 
Of Praying Hands methode is suitable for all kinds of curl types. Whether you have waves or coily hair. It gives any curl type more definition and less frizz. 
What do you need for the Praying Hands method? 
You need your favorite styling products. During this method, use the same as you normally use. So Do you always use a leave-in conditioner and gel? Then you add that too. And of course you need your hands ;)
Step-by-step Praying hands method 
You've just washed your hair or you're ready for a refresh. Grab everything you need during your styling routine. 
You start on wet hair. Divide the leave-in conditioner or curl activator in your hands and grab a section of hair between your hands.
Start at your roots and slide your hands down to your ends. 
Repeat a few times on the same section of hair. This way you ensure that the product is well distributed over the entire crop. 
You should now see that any fluff disappears and your curls form beautiful clumps. 
Repeat these steps on the rest of your hair. 
When you have distributed the leave-in conditioner or curl activator over your entire hair, continue with the gel. 
Do the same with the gel. Apply some gel on your hands and divide it between your hands. 
Take another strand and start at the roots. Repeat until you've had all of your hair. 
Now you are going to scrunch gently. Make sure you do this slowly so that the clumbs stay together nicely. 
Let your hair dry now or use a diffuser. And finished! Beautifully defined curls without frizz!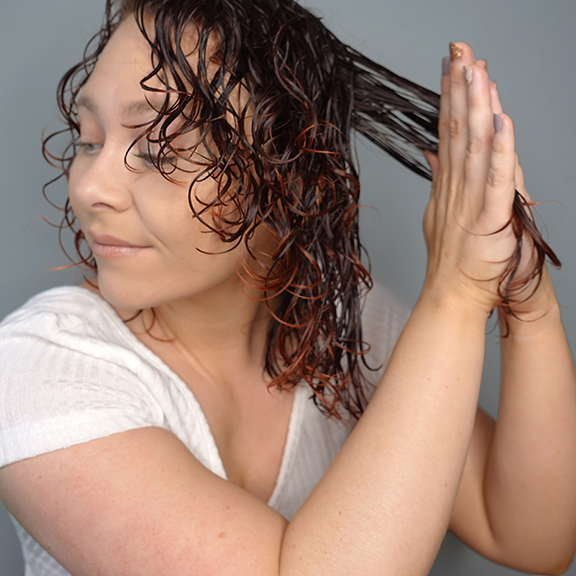 What can you use during the Praying Hands method?
You can use the praying hands method with multiple products. 
Use this leave-in conditioner from John. Giovanni Direct Leave in Weightless Moisture Conditioner is a weightless, light moisturizing leave-in conditioner.
2. A gel 
For example this one jelly gel van Umberto Giannini.
Or this one Treluxe Hi! Definition™ Curl Enhancer Styling Gel.
Discover even more techniques 
Want to try something different from the praying hands methode? Then take a look at others stylingmethodes! 
Share on
Find the products for your hair